Welcome to our website! We are two friends, Maaya (Art) and Instafluff (Code), and PixelPlush is our game studio to make fun and relaxing games that bring people together, especially through live streams on Twitch!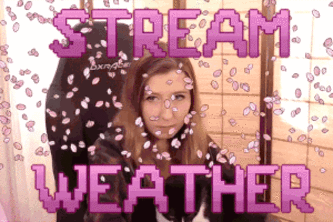 Stream Weather
Stream Weather Overlay Using Channel Points for Twitch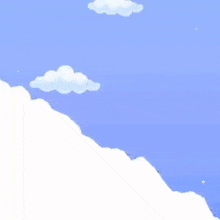 Hill Rolling Race
Racing Stream Overlay Game for Twitch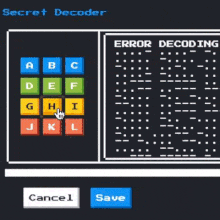 Chronocipher (Ludum Dare 46)
Twitch-Integrated Detective Game!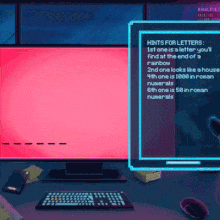 Detective Pawsome (Ludum Dare 45)
Twitch-Integrated Password-Hacking Game!
Hello guys and HAPPY PRIDE MONTH! PixelPlush decided to do a charity event this month to help raise money for the It Gets Better Project". If you help us raise money and reach our goals, you'll be able to redeem some PixelPlush rewards!
Click Here to Check out our Tiltify Charity Campaign!
LIST OF CURRENT REWARDS:
Premium Rainbow Parachute Drop $5
Rainbow Candycane Pet $5
Rainbow Giftbox Pet $5
Rainbow Balloon Pet $5
Rainbow Unicorn Poop Pet $5
FULL Rainbow bundle $50
Our first goal WAS to raise $100 - Our first goal WAS to raise $100 - which ended up already happening xD it unlocks a Rainbow Penguin Pet! (It will be added to the rest of the rewards within a few hours) The next goal is to raise $250 - this will unlock 2 new rainbow pets
SOME THINGS YOU SHOULD KNOW:
The FULL bundle ($50) unlocks all rainbow characters/pets as well as future ones that we unlock through reached goals (it also includes the rainbow parachute drop theme)
There will be multiple goals which unlock more rainbow pets or characters if we reach them!
Make sure you have an account on our PixelPlush website to be able to redeem the items and ALSO don't forget to include your Twitch username during the donation process!
Gifting to other PixelPlush users is also available, just make sure you include their Twitch username instead of yours!
For now we have to add the items to each account manually so it might take up to a few hours to do that - please be patient, however if you are worried we forgot about you, send us a DM!
JUST THIS MONTH: Add Rainbow from Stream weather to your stream FOR FREE
Add Pride Month Rainbow to Your Stream
Hello everyone! Thank you so much for helping us beta test our 2 new parachute themes and the Stream Weather overlay! The beta testing is over, but all the new things are now available in the market so you can get them with PlushCoins! (the Easter theme remains free) https://www.pixelplush.dev/market.html Don't forget that you can also gift the premium parachute themes and Stream Weather to your favorite streamers!
IMPORTANT!
If you've been using StreamWeather or the Spring Blossoms parachute theme in beta, you have to change the browser source because the old one is gonna stop working at the end of this week!
The Hackathon is over and Stream Weather made it to TOP 10!
To celebrate, you can now get it in the market with a 50% discount until the end of this month! The Easter characters/pets also remain discounted till the end of April!
We also launched an improved version of the market so looking for the things you want is now much easier!
Let us know if you have any questions!
We created a new Easter theme for Parachute Drop that is available for beta testing until the 15th of April!
The link generator is here: https://www.pixelplush.dev/beta.html
50% off new Easter characters and pets, including new Easter eggs!
To celebrate Easter, you can now get all Easter items in the store with a 50% discount! Don't forget that you can also gift items to your friends!
Get brand new cute little Easter eggs or bigger ones as pets! More color options available in the Market https://www.pixelplush.dev/market.html
Let us know about any bugs in #🐞bug-report and message us in #🙋help-center (in Discord) in case you need assistance!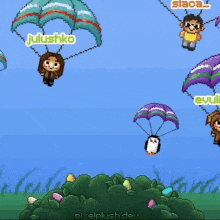 WE SUBMITTED TO THE TWITCH HACKATHON!
Hello everyone, thank you so much for helping us beta test the new Stream Weather game! We successfully submitted our projects to Twitch Hackathon, you can check them out here:
Thank you so much for sharing your clips in #🎬share-your-clips (in Discord)! We already sent the PlushCoins to the winners
So now you can try many more PixelPlush games with channel point integration!
Pixel Confetti: lets your viewers redeem a celebration animation
Parachute Drop: lets your viewers play the drop game through channel points! Your viewers now also have the option to redeem droplets with channel points instead of triggering them with bits!
Parachute Plinko: you can also now let viewers play the Plinko game through channel points
If you are not sure how to set the games up, just check out the devpost links! They all include video tutorials!
In other news: WE ARE DOING A PixelPlush EASTER SPECIAL EVENT Get ready for new Easter themed parachute drop and new pets and characters
PixelPlush is participating in Twitch Hackathon! We are submitting multiple different projects including Parachutes and Plinko with channel point redeem integration (coming very soon!)
Along with that we created a brand new overlay game called STREAM WEATHER!
What is it?
This overlay has a series of weather animations (including rain, snow, rainbow, etc.), that viewers can trigger with channel points!
All you gotta do is create your own url using this link generator: https://www.pixelplush.dev/beta.html and put it as a 1920x1080 browser source in OBS
You can choose which animations you want to include - if you don't want one, just set the cost to 0
You can always change the price of each animation later directly in your Twitch channel points settings
There is also a volume option - right now the only sound effect is thunder, but we plan to add more!
If you add it to your channel, we would love it if you could make some clips and post them in #🎬share-your-clips (in Discord)
THIS GAME IS IN BETA TESTING PHASE
QUICK UPDATE
This is just a small update to let you know that we added a regular winter parachute drop to the website. It's the same target as the Christmas one, just without the decorations!
Announcing a brand new game and a new game theme from PixelPlush!
Hill Rolling Race
Type !hill in chat to have your character roll down the hill!
RACE MODE - great giveaway tool for your stream - see who makes it to the bottom of the hill first!
Streamer/Mods can trigger the race mode by typing !queuehill
After everyone joins by typing !hill in the chat, streamer/mod can start the race by typing !starthill
If you type "!starthill 10", it will count down from 10 - you can choose any amount of seconds you want!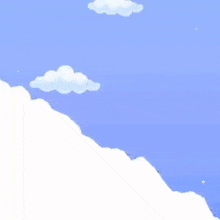 Christmas Plinko Bounce
A Christmas themed version of the plinko game now available on the website!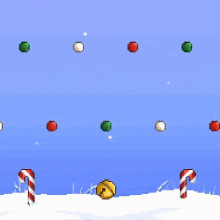 PixelPlush is coming to you this month with lots of news, including a Christmas sale as well as introducing new characters and pets to the market!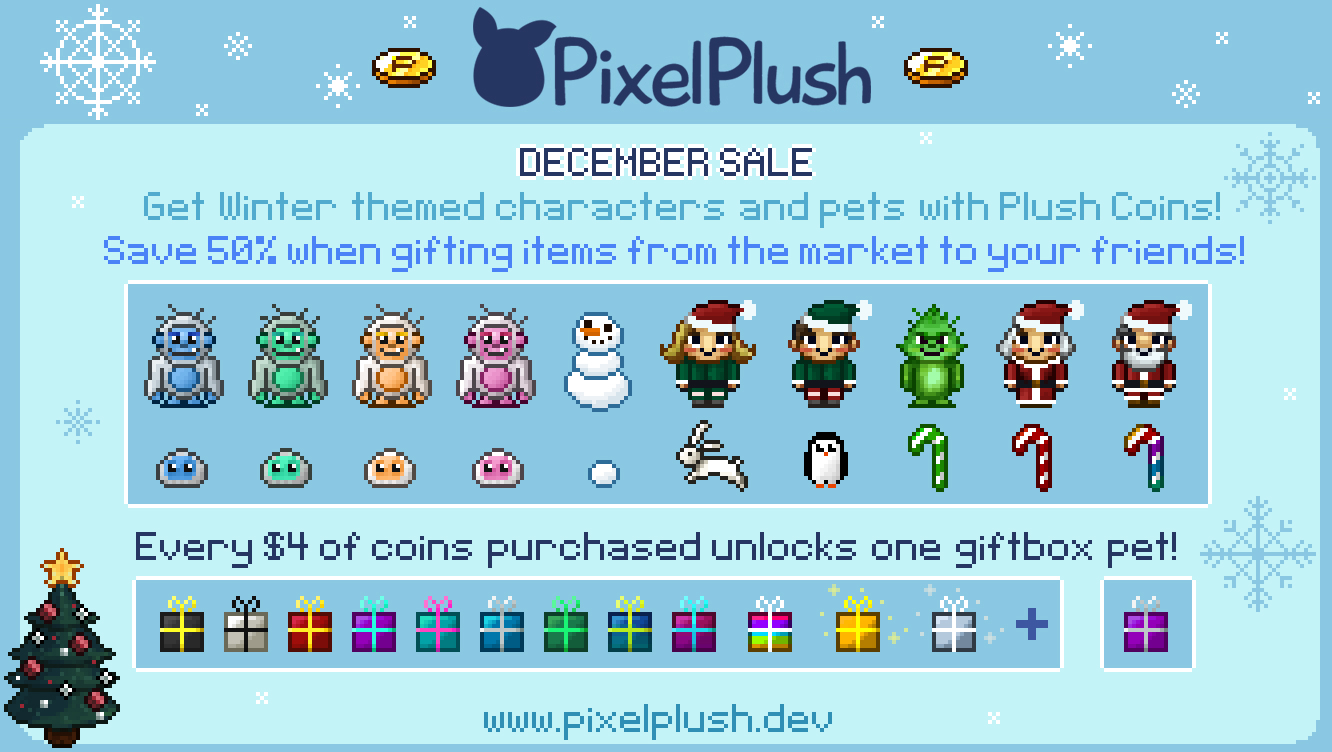 Get free giftbox pets when purchasing PlushCoins!
for every 4$ you'll get 20 PlushCoins and 1 giftbox pet
for every 20$ you'll get 100 PlushCoins and 5 giftbox pets
for every 100$ you'll get 500 PlushCoins and all available giftbox pets! (26 variations)
Save 50% when creating a gift code for your friends!
During December you can gift pets and characters to your friends for half the price! Just click on the gift icon that's located under each item in the market to create a gift code. Send that gift code to your friend along with this link: www.pixelplush.dev/redeem.html
Reduced market item prices!
Starting this month, you can get more characters and pets for your coins! Characters are now 20 PlushCoins and pets are now 40 PlushCoins!
New market items:
Yeti character available in 4 color variations (blue, pink, green, orange)
Yetchi pet available in 4 color variations (blue, pink, green, orange)
White rabbit pet called Marble
Penguin pet called Flipper
Candy cane pet available in 9 color variations (blue, green, orange, pink, purple, red, turquoise, yellow and rainbow)
Returning market items:
Christmas (Santa, Claus, Helpers, Grump)
Market items hibernating after this week. Get them by Dec 6th!
Autumn (Amanita & Ammy, Twiglet & Twiggy)
Spring (Lotus, Calendula, and Poppy)
Easter (Chicklet & Chocklet, Caramel & Cotton)
Valentine Bears (Boy, Girl, Evil)
Magical Wizards (Geeky, Smart Girl, Red-Hair, Elf, Evil)
Halloween (Firefly, Monster, Vampire, Witch, Zombie)
News:
Christmas Drop Target - There is a new parachute theme available on the website to match the winter season!
Drop Randomizer - If you own multiple characters or pets, you can now select them by using the + random button in your dressing room on the website! Once you have multiple items selected, it will pick a random pet and a random character from the selection every time you !drop
!queuedrop - You can now use a !queuedrop command to queue all !drop commands entered afterwards. Then you can drop all of them at the same time with the !startdrop command! This is great if you want to use the drop game to do giveaways!
Top Scores - You can now keep track of all the scores in your channel! Just make sure you've granted chat permissions when setting up the drop game. You can browse through top scores on this page: www.pixelplush.dev/scores.html
We would like to remind you that there is a Halloween themed maze game on our website!
Pickable items:
5 points
10 points
20 points
25 points
30 points
100 points
Stay away from the spider webs

, they take 5 points from you if you step on them!
You can play as 4 characters:
Witch
Zombie
Monster
Vampire
And there is a boss character - ghost

The streamers can enable/disable the boss in the chat generator on our website
We also created a HALLOWEEN THEMED PARACHUTE GAME!
It's a cauldron with a spooky green liquid! The default characters for this theme are witch, zombie and vampire!